Anne, Belle of Mysteria
Réalm: MAN
SS Rare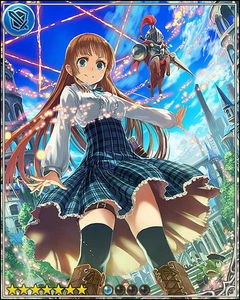 ATK : 4.100 DEF : 4.760
ATK MAX : 10.250 DEF MAX : 11.890
PWR Required : 34
Skill : Belle Calling
Effect : Massive boost to man/demons DEF (18 %)
Event Skill : Spirits, Come Forth!
Event Effect : Massive boost to damage against Chaos Beasts in Anne and Grea vs. Evil / Big boost to damage against other raid bosses
Anne, the prodigy of Mysteria, possesses magical ability far beyond that of most experienced sorcerers. When she was a young girl, she ran away from home and sought shelter in Mysteria Academy.
Sell for : Unknown